Pacific Marine Credit Union
PMCU has secured a 20 year ground lease on Camp Pendleton to open up their second branch. They wanted a modular building so that the branch could be relocated at a future time. Federal code required the building to be blast resistant (ATFP Construction).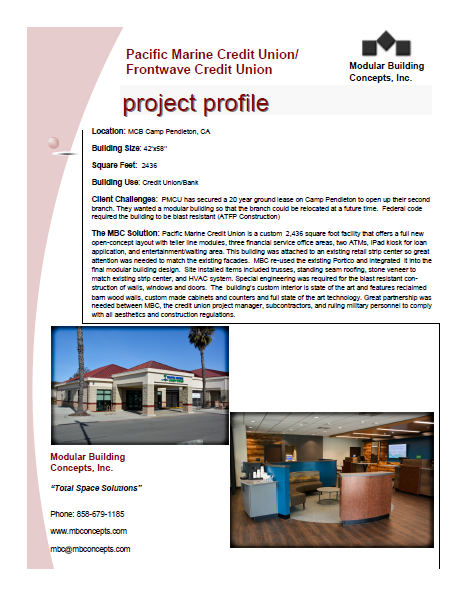 View Project Profile
COCA COLA REFRESHMENTS
Coca Cola was in the process of selling a part of their distribution center and relocating staff/drivers to a temporary facility. The drivers were moved to a new drop lot building and required a logistics and deposit office to deposit vending machine monies.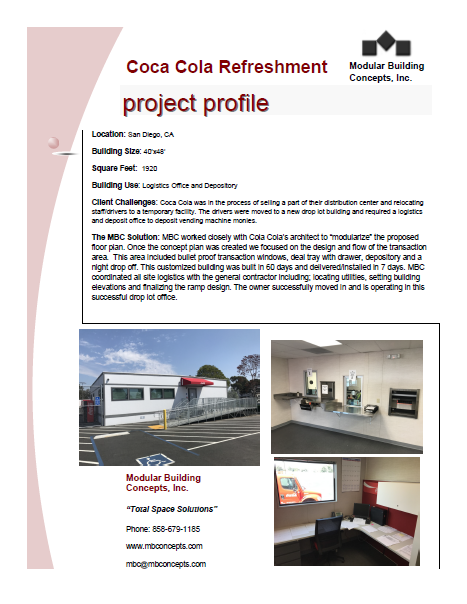 View Project Profile
Temple Adat Shalom
Temple Adat looked to expand their existing preschool & daycare center to accommodate a growing wait list. Budget constraints and timing were the Temple's biggest challenges when deciding between modular construction and conventional construction.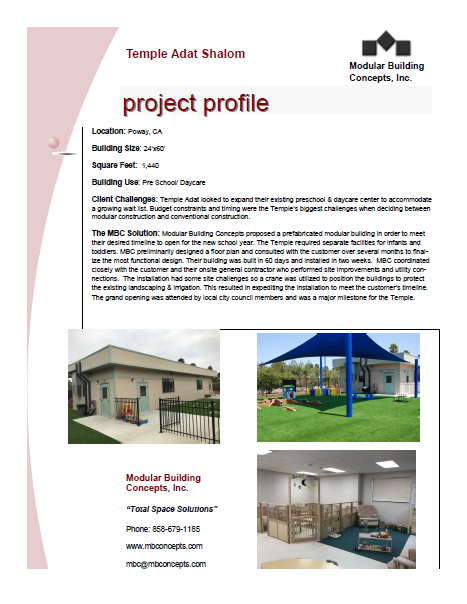 View Project Profile
The County of San Diego - Borrego Valley Airport
The County of San Diego was looking to replace an existing modular building at the Bor-rego Valley Airport. The existing building had served its purpose but was in poor condition and was determined to be of little value. A new building solution was needed.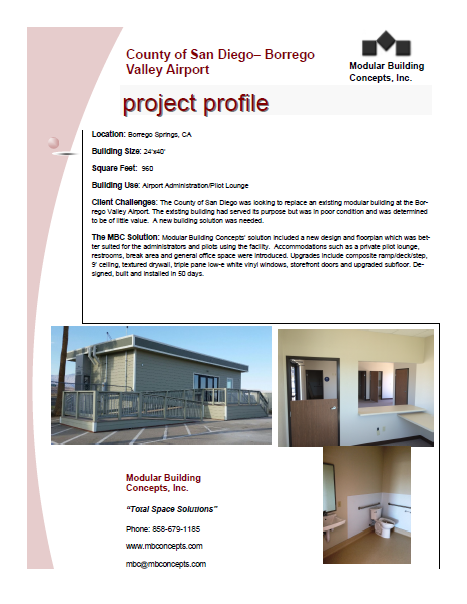 View Project Profile
10,000 RV
10,000 RV, a very successful and established RV dealer was looking to open a new state of the art sales facility with a "diner" style restaurant in San Diego. Their lot had excellent freeway frontage and was ideal as a sales facility. The challenge was it sat directly over an old landfill. The building department ruled that no permanent structures could be built on site due to settling ground conditions and the evidence of methane gas.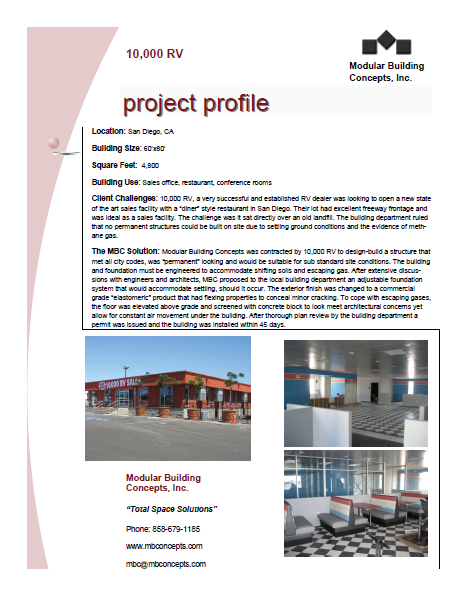 View Project Profile
General Dynamics - NASSCO
NASSCO, a division of General Dynamics is a full service shipyard located in San Diego CA. They employ hundreds of employees and needed an affordable and durable restroom facility at one of the berths. The challenge was to design a modular restroom to withstand the rigors of a ship yard environment for years to come.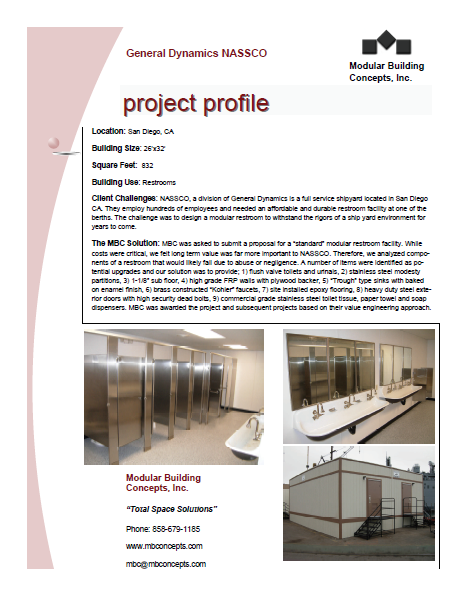 View Project Profile
La Jolla Country Day School
La Jolla Country Day is a K-12 private school located in prestigious La Jolla Ca. This very popular school had plans to expand the campus but needed interim space until construction commences in a few years. They had two primary challenges; 1) The "temporary" classrooms and offices must be architecturally appealing and conform with surrounding structures 2) The interior floor plan must accommodate multiple classrooms and faculty needs.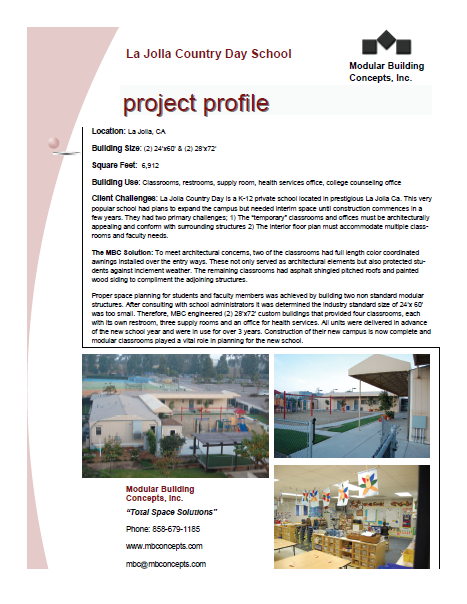 View Project Profile
Modular Building Concepts, Inc. Corporate Office
Modular Building Concepts Inc. was relocating their corporate offices from San Diego Ca. to Poway Ca. They planned on using a 2,160 square foot modular building in lieu of a more traditional concrete "tilt up" building to show future customers how modular construction can save them time and money and still produce the same or better quality structure. The local building department was unsure whether or not a factory built structure could be manufactured to meet strict architectural standards for the business park. The challenge was to design a structure that would meet all building codes and be architecturally consistent with surrounding buildings.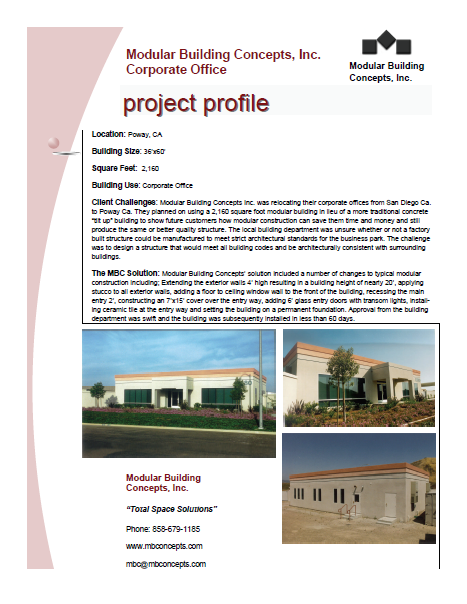 View Project Profile
Public Auto Wholesale
Public Auto Wholesale, a successful used car dealership was interested in opening a sales office at a busy intersection in La Mesa, CA. The challenge was to design a modular building that met the owner's space needs, budget constraints, but most importantly look "permanent".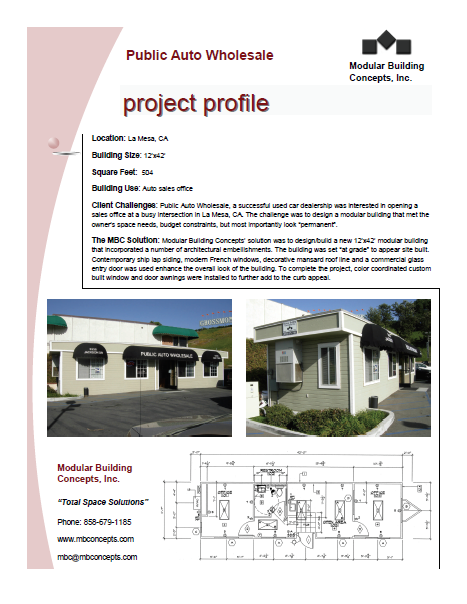 View Project Profile
University of California San Diego (UCSD)
Office and classroom space for; School of Medicine, Student Health Services, Medical Center, Biomedical Research, Facilities Design & Construction, Continuing Education and Center for Research in Electronic Art Technology and Risk Management departments.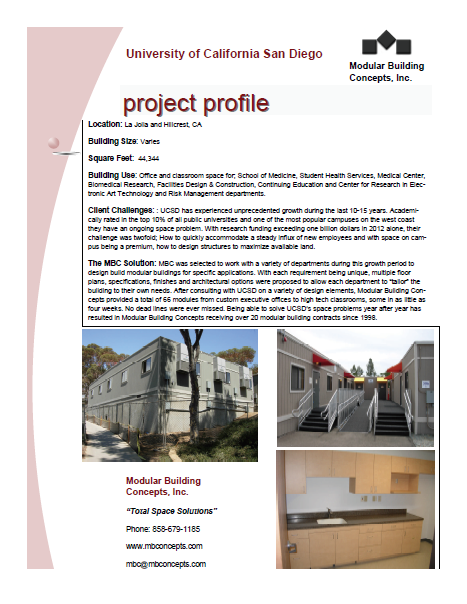 View Project Profile
U.S. Marine Corps Base Camp Pendleton
Camp Pendleton required two modular buildings, one for a computer lab and one for supporting office personnel. The challenge was the computer lab. They needed a completely operational and functional modular facility that would accommodate a highly sophisticated computer testing system.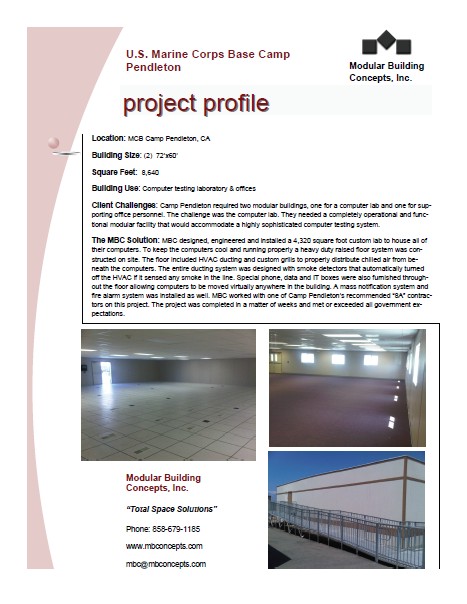 View Project Profile
Valley View Casino
Valley View Casino, part of the San Pasqual Band of Mission Indians is a very successful and popular casino in Northern San Diego County. They cater to the Southern California gambling community and have experienced steady growth since opening in April of 2001. Their challenge was to accommodate the space needs of numerous departments quickly and affordably as the casino expanded.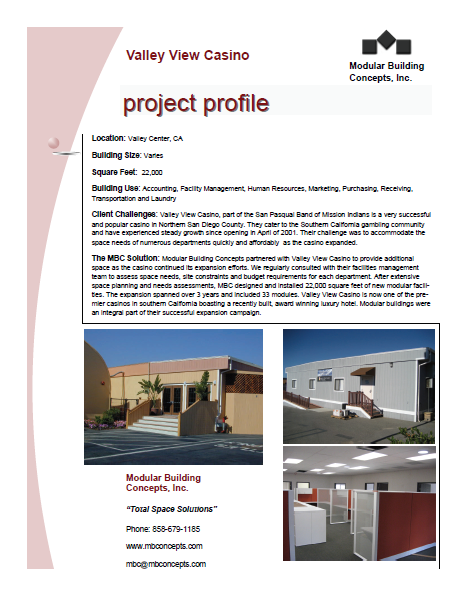 View Project Profile